Whistler this Fall: A Season of Adventure and Tranquility
Posted on Fri September 22, 2023.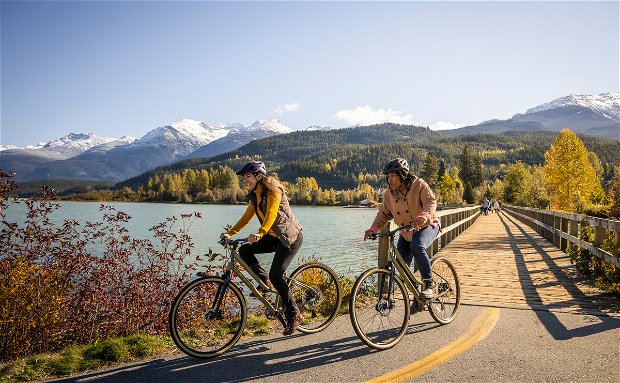 Tourism Whistler/Justa Jeskova
The arrival of fall in Whistler, British Columbia, heralds a breathtaking transformation in this mountain paradise. As the leaves turn to vibrant shades of red, orange, and gold, the crisp mountain air fills with an aura of tranquillity and adventure. It's the perfect time to plan your escape to Whistler, and what better place to base your stay than at the Lake Placid Lodge in the picturesque Creekside area? Let's delve into the incredible activities that await you this fall in Whistler.
Hiking and Biking Amidst Nature's Canvas
Whistler is renowned for its extensive network of hiking and biking trails, and they truly come alive in the fall. The lush forests and alpine meadows are painted in a symphony of colours, creating a visual masterpiece. Whether you're an experienced hiker or a leisurely stroller, there's a trail for every level. Popular trails like the Valley Trail and Cheakamus Lake Trail offer stunning vistas and encounters with wildlife against the backdrop of autumn foliage. If you need to rent a bike, our partners have got you covered, ensuring you have the right equipment to explore these scenic routes at your own pace. So, whether you prefer the serenity of hiking or the thrill of biking, Whistler's natural canvas is waiting for you to explore and create lasting memories amidst the fall beauty.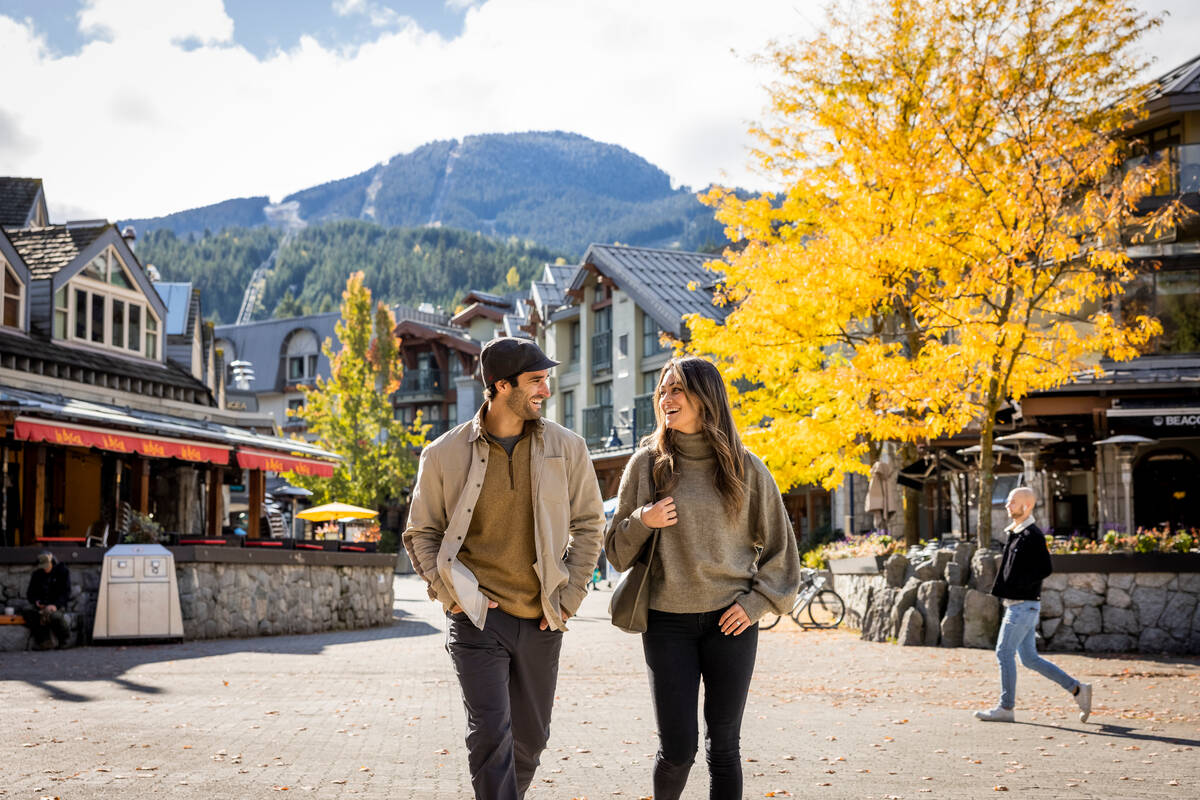 Whistler Village Stroll | PC: Tourism Whistler/Justa Jeskova
Whistler Village: A Quaint Autumn Wonderland
Wandering through Whistler Village during the fall season is like stepping into a charming autumn wonderland. The crisp mountain air and the vibrantly coloured leaves create a perfect backdrop for exploring this delightful village. Make sure to start your day with a visit to Moguls Coffee House, located in the heart of the village. This cozy haven offers a variety of comforting beverages, from pumpkin spice lattes to decadent hot chocolates. If you're a coffee connoisseur, don't miss Fix Café, where expertly crafted coffee and artisanal pastries await. And for a touch of culture, the Audain Art Museum is a must-visit. This stunning museum showcases an impressive collection of Indigenous art, contemporary masterpieces, and historical works, providing a fascinating cultural retreat amidst the fall beauty of Whistler. Be sure to check their website for special exhibitions and events happening during your visit, adding an artistic dimension to your autumn getaway.
Adventure Awaits: Explore the Great Outdoors
For those seeking an adrenaline rush and a chance to immerse themselves in Whistler's stunning autumn landscapes, consider embarking on an ATV, Mountain Buggy/RZR, or 4X4 adventure. Both The Adventure Group and Canadian Wilderness offer thrilling excursions that allow you to traverse rugged terrain, ascend to breathtaking viewpoints, and witness the fall foliage in all its glory. These guided adventures cater to all skill levels, making them perfect for both seasoned adventurers and beginners looking to explore the wilderness in a unique and exhilarating way. It's an unforgettable experience that will add an exciting twist to your fall escape in Whistler.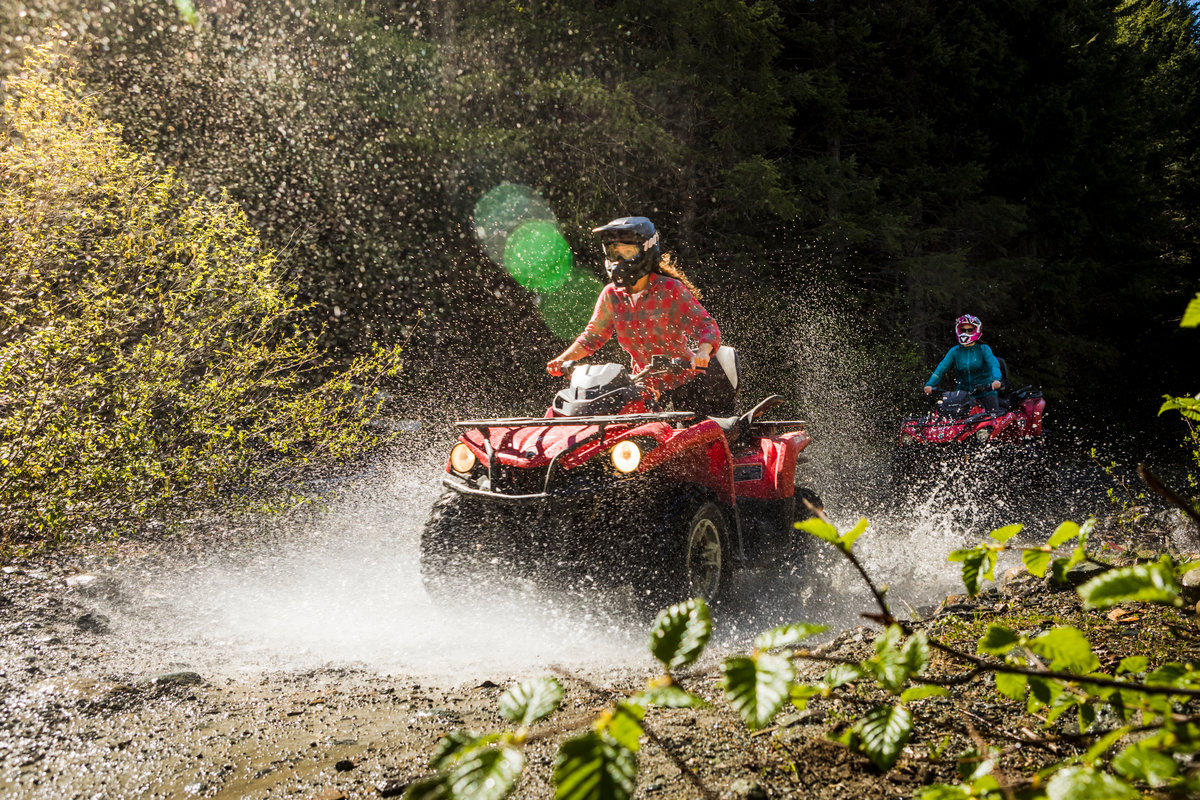 ATV & RZR Adventures | Tourism Whistler/Justa Jeskova
Fall Golfing in Whistler: A Golfer's Paradise
As the summer crowds subside, fall emerges as an ideal time for golf enthusiasts to indulge in their passion amidst the stunning backdrop of Whistler's mountainous terrain. Several world-class golf courses remain open during the fall, offering a unique and tranquil golfing experience. Whether you tee off at the Whistler Golf Club with its vibrant fairways, challenge yourself at Nicklaus North Golf Course against the majestic Coast Mountain range, or venture to Big Sky Golf and Country Club for a nature-infused round, fall golfing in Whistler promises fewer crowds and comfortable playing conditions, making it a golfer's paradise that allows you to immerse yourself in the natural beauty of the region while pursuing your passion for the game.
Fall Dining Specials in Whistler Creekside Village
Whistler's culinary scene takes on a special charm in the fall. Many restaurants and cafes in the Creekside Village area offer delectable fall dining specials that celebrate the season's harvest. Indulge in hearty soups, savoury roasted dishes, and delicious pies made with locally sourced ingredients. Whether you're in the mood for a romantic dinner, a family feast, or a casual lunch, Whistler Creekside Village has the perfect dining spot for you. Pair your meal with a locally crafted cider or wine to complete the fall culinary experience. It's a delightful way to savour the flavours of the season while taking in the scenic beauty of Whistler.
Cornucopia Whistler | PC: Tourism Whistler/Justa Jeskova
Whistler Fall Events: A Calendar of Vibrant Experiences
Whistler comes alive with a calendar of exciting fall events that cater to a variety of interests. Immerse yourself in the local culture and festivities with events and activities like the Whistler Farmers' Market, where you can sample locally grown produce and artisanal products. The Whistler Wine Walk allows you to explore the village while sipping on fine wines from British Columbia's wineries. Literary enthusiasts will find the Whistler Writers Festival a delight, with renowned authors and writing workshops. For foodies, Cornucopia Whistler is a culinary extravaganza featuring wine tastings, food seminars, and chef dinners. And Cinephiles won't want to miss the Whistler Film Festival, showcasing outstanding films and celebrating the art of cinema against the stunning backdrop of Whistler.
Book Your Stay at Lake Placid Lodge
Nestled in the heart of Whistler Creekside, Lake Placid Lodge provides the perfect base for your fall adventure. Offering comfortable accommodations and spectacular mountain views, it's a serene escape just moments away from all the autumn activities in Whistler. Whether you're planning a romantic retreat, a family getaway, or a solo adventure, Lake Placid Lodge ensures your fall stay is nothing short of magical.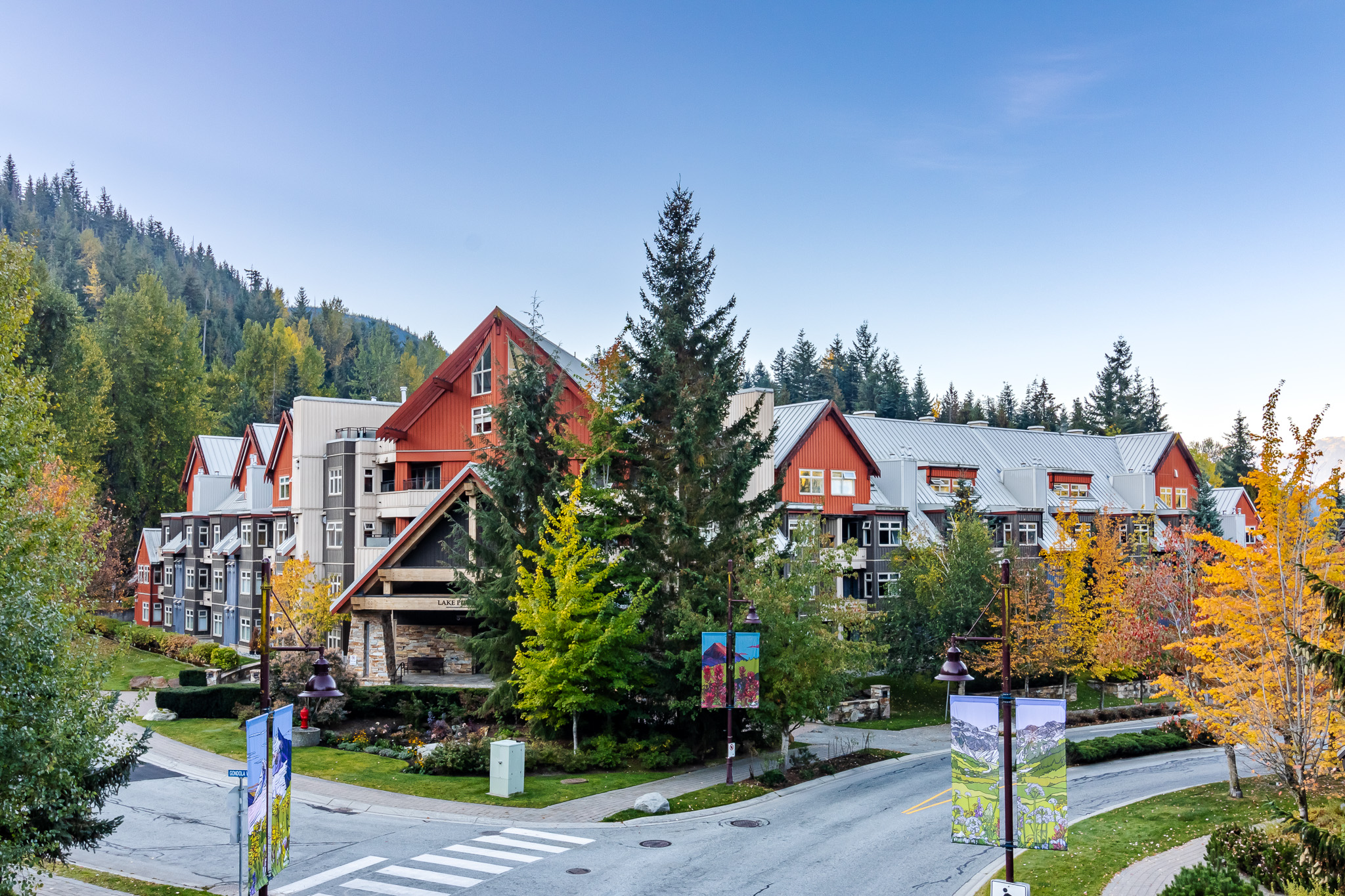 Whistler Lake Placid Lodge | PC: Megan Nolte
Whistler in the fall is an absolute gem waiting to be explored. With its breathtaking natural beauty, exciting activities, and delicious culinary experiences, it's the perfect season to plan your escape. Witness the magic of fall in Whistler, and let the enchanting colours and serene ambiance create lasting memories. Book your stay at Lake Placid Lodge and embark on an unforgettable autumn journey in the heart of this mountain paradise.