Whistler's Dining Scene

FINE DINING. AUTHENTIC PUBS. APRÉS. TASTING TOURS & MORE

Abby Cooper/Gibbons
Where To Eat In Whistler
Let your taste buds run wild with Whistler's infinite menu of diverse dining scenes. Its wide variety of local produce has paved the way for Whistler to become one of the premier food capitals of the West Coast. From locally made fine wines to foreign influences from around the world, Whistler is a foodie's paradise!
For a complete dining options list, take a look at Whistler's Open Table Directory to book and more.
ONLY A SHORT WALK FROM LAKE PLACID LODGE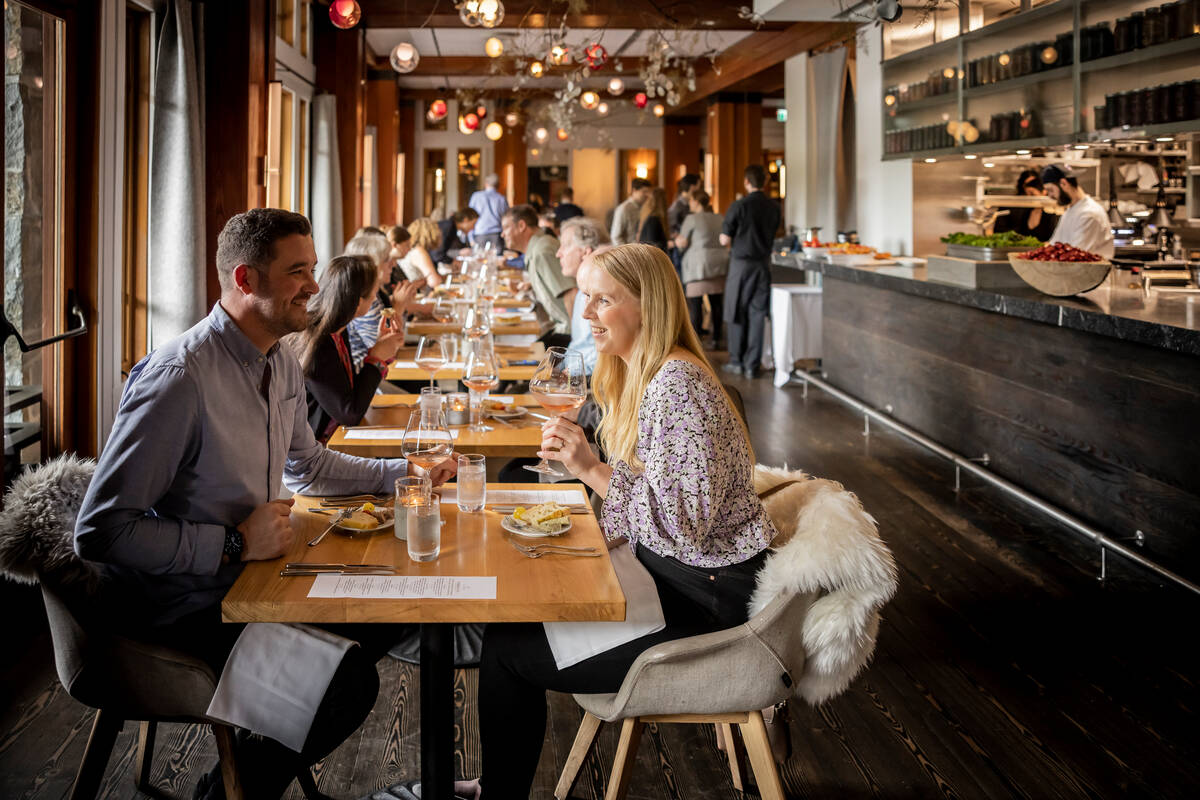 The Den at Nita Lake Lodge: Nestled on the glacier-fed Nita Lake, enjoy seasonal dishes with local farm-to-table products, artisan meats + cheeses and garden-grown herbs + greens with a strong emphasis on plant-based alternatives.
Creekbread: Rated as one of the best woodfire pizza places in town, enjoy delicious thin-crust pizzas and salads featuring local and organic ingredients, free-range chicken, and nitrate-free meats. 
Red Door Bistro: A cozy, candlelit restaurant offering food with a bistro flair.  Enjoy french cuisine meets west coast at Whistler's best intimate dining experience - On most visitors' "to-do list" while in town, so please make a reservation well in advance.
Southside Diner: If you are looking for scrumptious breakfasts and lunches, this is the place to go! Enjoy a heart-warming meal, catch up on the latest gossip and maybe even have a few beverages.
SOME OF OUR FAVOURITE SPOTS IN WHISTLER
Mallard at The Fairmont Chateau, Upper Village.
Elements: Great for dinner or a fabulous breakfast; they have gluten-free, vegetarian and vegan options and a great wine list.
Sachi Sushi: A wide variety of sushi bursting with flavours. You need to try the cupcake roll, seriously! 
Pasta Lupino: Their soups are all made from scratch, and their salads are wonderfully fresh.  All pasta is made in-house daily. Definitely worth trying.
La Cantina: The perfect spot for a delicious Mexican spread. Tacos anyone?
Pure Bread: One of the best bakeries EVER. Caution! You will be tempted to buy all kinds of yummy treats. This is definitely worth a stop and drool.  They have gluten-free options and serve excellent coffee. You have just found Pure Heaven...I mean Pure Bread.
Araxi Restaurant + Oyster Bar: Spoil yourself with a fine dining experience, great for special occasions. Enjoy fantastic service and five-star food.
LOUNGES
The Mallard at The Fairmont Chateau or the Firerock Lounge at The Westin. Enjoy live music on selected nights and cozy fireplaces.
INEXPENSIVE OPTION
El Furniture Warehouse has a menu with everything under $9.45. Lunch or dinner, it's a local favourite to pop by for an inexpensive and hearty meal.
PICNIC WHISTLER 
Enjoy an oh-so-dreamy lakeside picnic with spectacular views, or even turn it into a romantic sunset date night. Picnic Whistler offers beautiful charcuterie and brunch boxes, boards and tables. Whatever your party size, they can accommodate and deliver right to your door or picnic spot.
ON-MOUNTAIN STOP OFF
Roundhouse Lodge. PC: Tourism Whistler/Mark Mackay
Roundhouse Lodge: The biggest restaurant in Whistler and home to our Olympic Legacy display. The Roundhouse rests at 6,069 feet and offers restaurants, patios, gift shops and the fantastic Umbrella Bar perched at the edge of the newly expanded outdoor patio with incredible mountain views.
APRÉS SKI
Garibaldi Lift Co. [GLC]: The place to be for après! This electric lounge bar relishes its location above the Whistler gondola building, overlooking skiers as they rip down the slopes in the winter and bikers as they charge through the mountain bike park in the summer. Enjoy a variety of dishes such as flatbreads, pasta, sandwiches, salads and shareable appetizers.