Spring Activities & Adventures

WHISTLER MOUNTAIN RESORT

Tourism Whistler/Justa Jeskova
Why Everyone Loves Spring in Whistler
Posted by Megan on Wed March 15, 2023.
Spring in Whistler means sunshine, soft snow, epic spring skiing and patio après. It's a season where your options multiply...
From summer days on the lake soaking up the vitamin D to exploring the valley trail by bike or foot to sipping cocktails on the sunlit patios in the Village and surprise pow days skiing and riding on the mountain tops. Each month brings something special to maximize your vacation goals. Whistler has everything you need, from peak to patio, to embrace adventure together. Here's what you have to look forward to.
Spring Highlights
Enjoy longer days skiing and snowboarding. Whistler and Blackcomb Mountains is open from 8:30 AM – 4 PM (February 25 – April 16), with extended access on Blackcomb Mountain from April 17 – May 22, 10 AM – 4 PM. Pack your sunscreen, fewer layers and enjoy bluebird days on and off the powder-packed slopes.
Spring skiing in Whistler. Photo Credit: Tourism Whistler/Guy Fattal
World Ski & Snowboard Festival - April 10 - 16, 2023. WSSF in Whistler offers a non-stop line-up of events, activities and action on and off the slopes. This annual snow sports, music, arts, and culture celebration features snowboard competitions, filmmaking, entertainment, and the season's best skiing and après sessions. WSSF Details.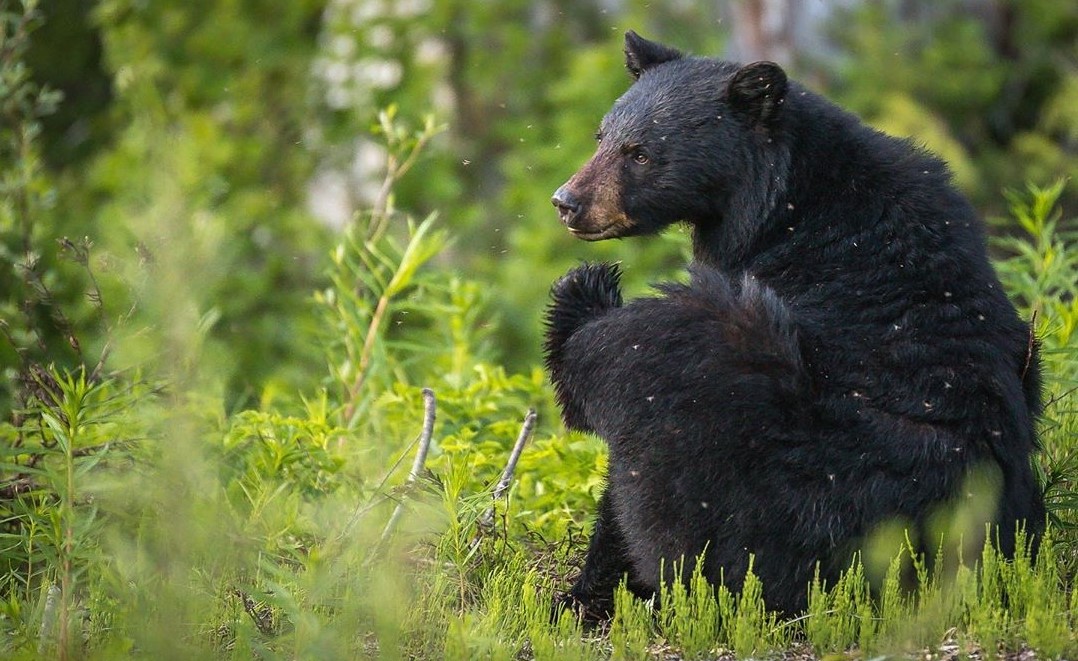 Whistler bear tours.
Spot the bears. As spring starts, our favourite furry locals begin to wake up from a long winter slumber and make their way to the surrounding forests to forage for food and other bear necessities. The best and safest way to spot them in their natural habitat would be through a Bear Viewing Tour, which will take you to the best feeding sites, daybeds and dens.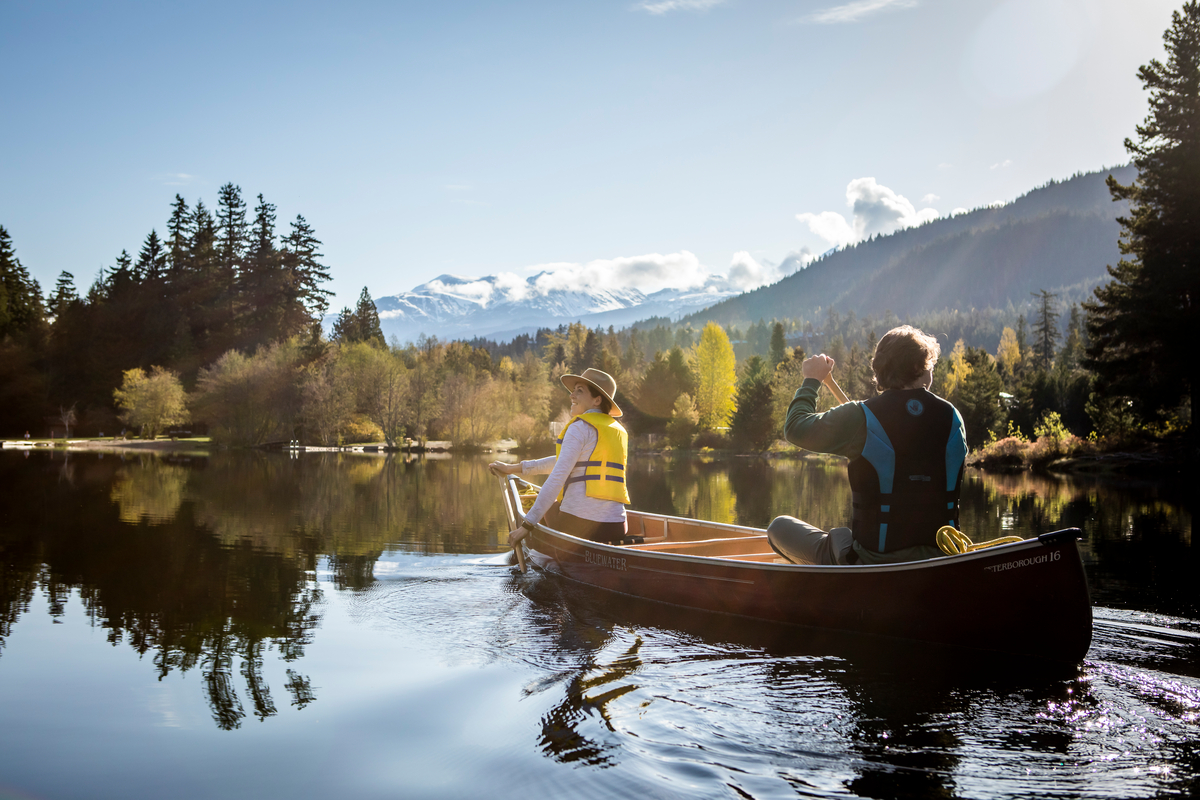 Lake day adventures. Photo Credit: Tourism Whistler/Justa Jeskova
Sun-soaked lake days. As the lakes begin to thaw out, Whistler has ample opportunities for you to enjoy days out on the water. Easily rent a canoe, kayak, or stand-up paddleboard and enjoy days paddling around Alta Lake, or go on an adventure with a guided tour down the spectacular River of Golden Dreams.
Exploring the Valley Trail. Photo Credit: Tourism Whistler/Justa Jeskova
Biking in Whistler. By April, the snow melts, and bikes become the best mode of transport, running and networking throughout the Village and Valley trail, Easily rent a bike and enjoy scenic views as you explore the trails, lakes and parks dotted across the valley.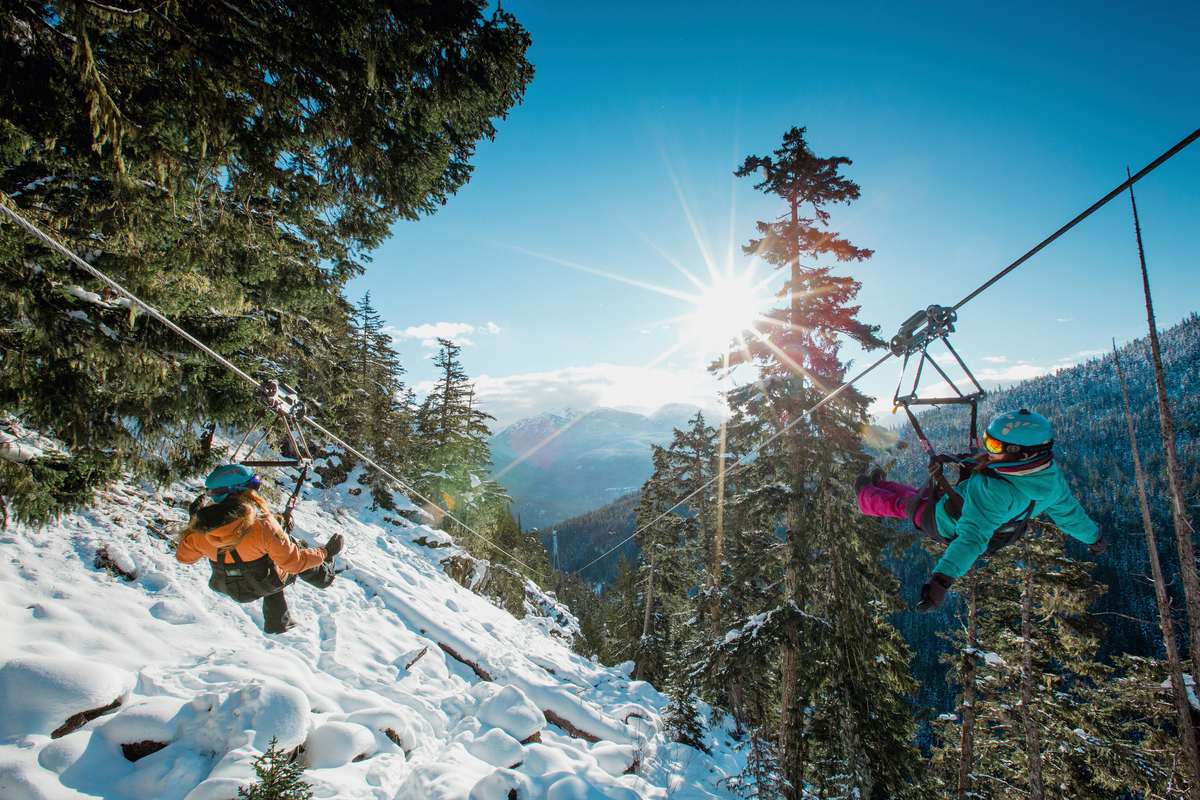 Ziplining at The Adventure Group. Photo Credit: The Adventure Group
Go on a thrilling adventure. A Whistler tip is only complete with an exhilarating outdoor experience at one of our Adventure Partners. Soar over valley creeks on a Zipline tour, conquer tightropes on an Aerial Obstacle Course, and fly over the mountains in a helicopter; the possibilities are endless. Find the Whistler activity that calls to you and create memories that will last a lifetime.
Family-friendly hiking. Photo Credit: Tourism Whistler/Justa Jeskova
Hiking in Whistler. One of Whistler's most loved activities, and for a good reason! Explore the network of trails in our lower valley, featuring over 40km of explorable terrain, boasting beautiful views of Whistler's lakes, mountains and glacier-fed waterfalls. Our top hiking spots include; Lost Lake Park, Iceberg Lake, Rainbow Falls and Cheakamus Lake —Maps of Whistler Hiking Trails.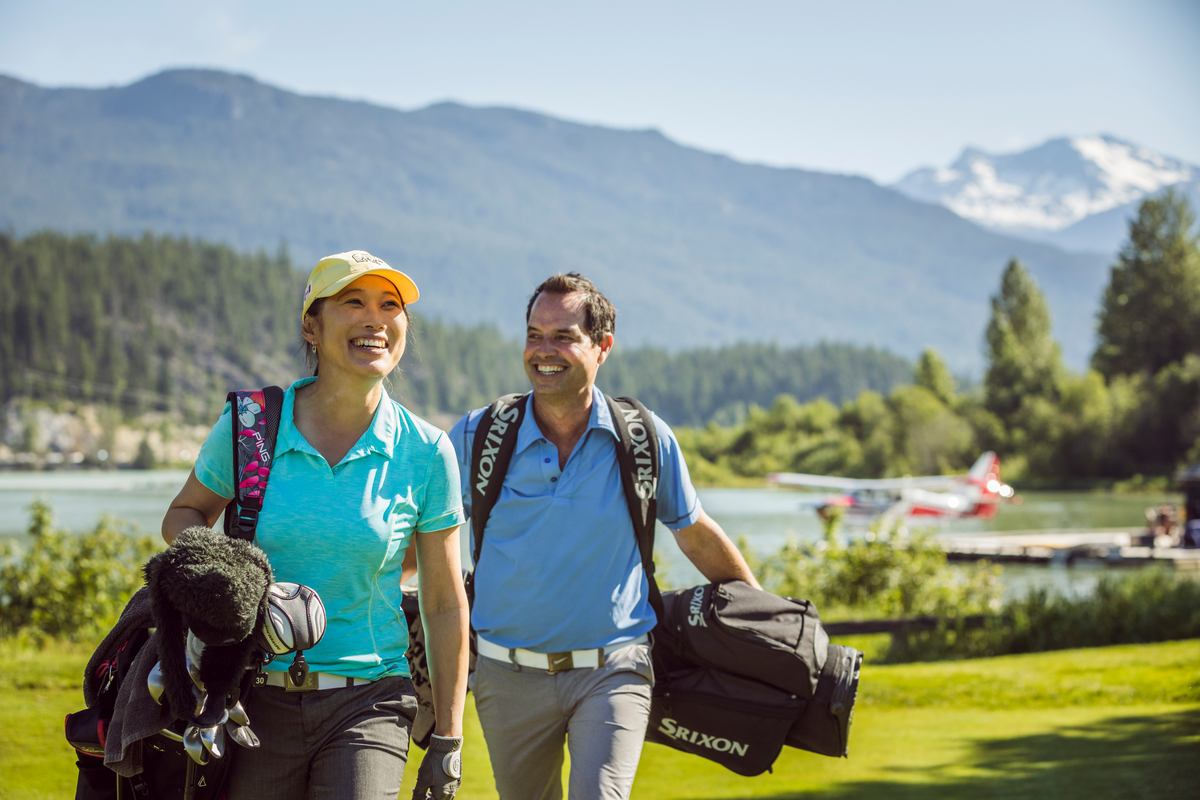 Golfing in Whistler. Photo Credit: Tourism Whistler/Justa Jeskova
Take a swing at golf. By mid-May, Whistler's four major championship golf courses open their doors and world-class greens to a season of exceptional golf paired with breathtaking mountain scenes and patio apres. The cooler temperatures allow you more time to master those shots without feeling the Summer heat. Whistler Golf Courses: Whistler Golf Club, Fairmont Chateau Whistler Golf Club, Nicklaus North Golf Course and Big Sky Golf Course.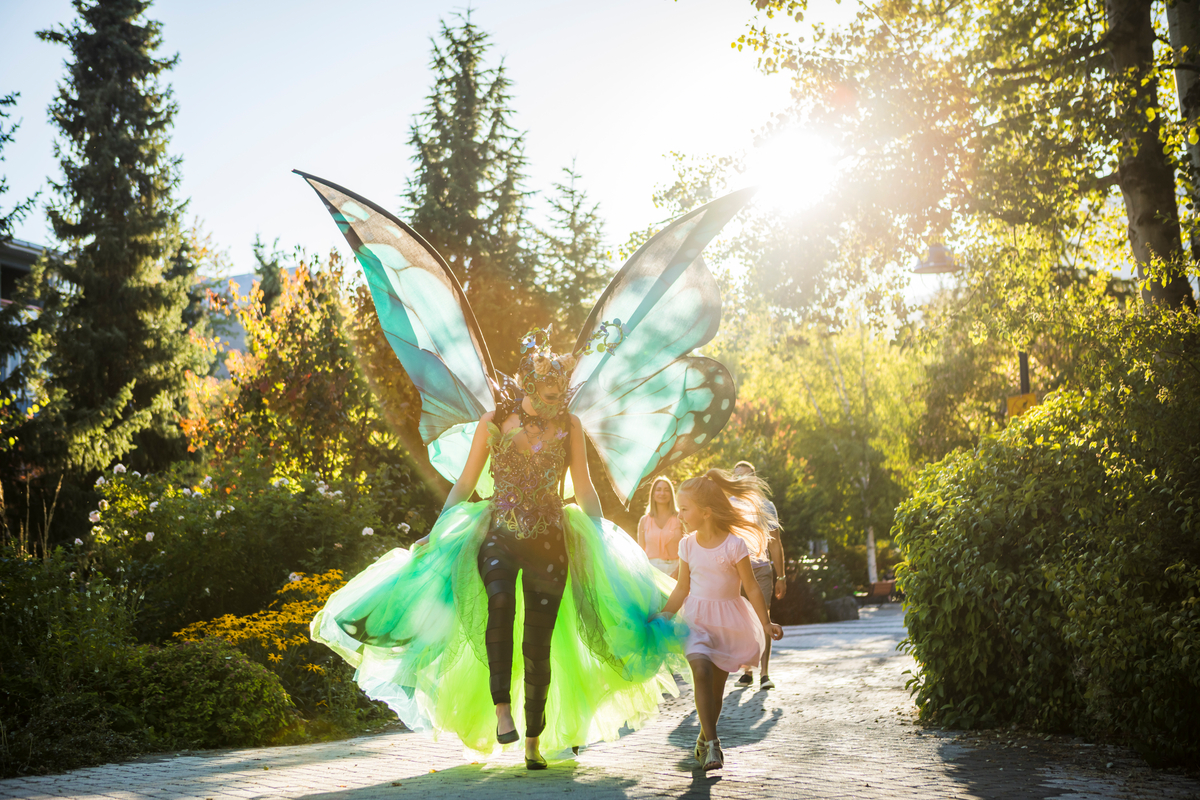 Whistler Children's Festival. Photo Credit: Tourism Whistler/Justa Jeskova
Whistler Children's Festival. May 19 – 21 & 27 – 28, 2023. Spend quality time with your little one as you participate in Whistler's fun-filled family event that brings arts and crafts activities, theatre, dance, music and magical performances to the Village and the Maury Young Arts Centre. Free your imagination and connect with your kids over two weekends jam-packed with adventure - Event details.
Whistler Farmers Market. Photo Credit: Tourism Whistler/Justa Jeskova
Whistler Farmers Market. From pizza to popcorn to live music and a delicious display of treats and eats, the Whistler Farmers Market is the perfect activity for the Whole family to enjoy. Starting in May, the market runs every Sunday in the Upper Village and features the work of local artisans, jewellery designers, painters, potters, bakers, and so much more.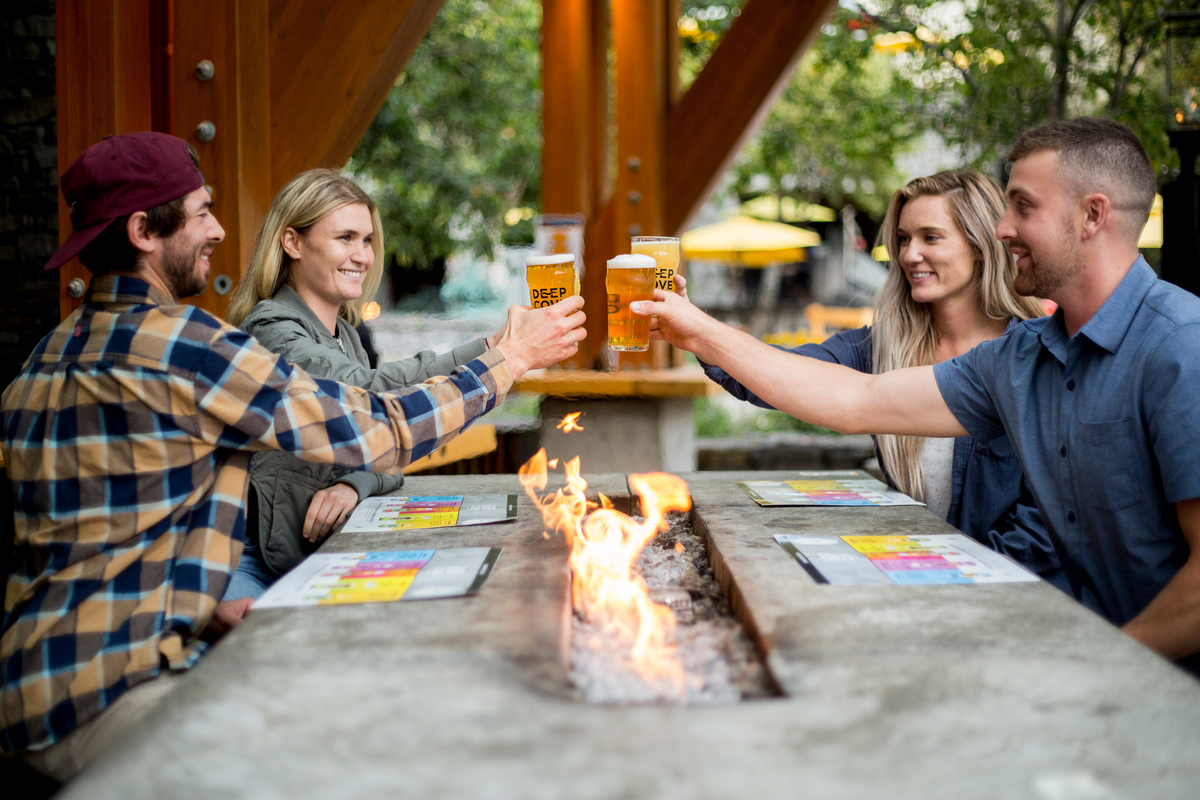 Ski après in the Village. Photo Credit: Tourism Whistler/Justa Jeskova
Between Spring skiing, early-season hiking and biking, thrilling adventures...and all of the above! You'll need to give yourself plenty of time to play in Whistler's jam-packed dual-sport season. For a more in-depth look at all Whistler has to offer - check out our Explore Whistler pages.
Spring visits give you more room to roam, more bang for your buck, and quieter trails to explore. Don't miss out - Book your spring holiday today!